The importance of getting it right: Inbound Call Centre Software
by Daniel Harding | May 10, 2022 | | 0 comments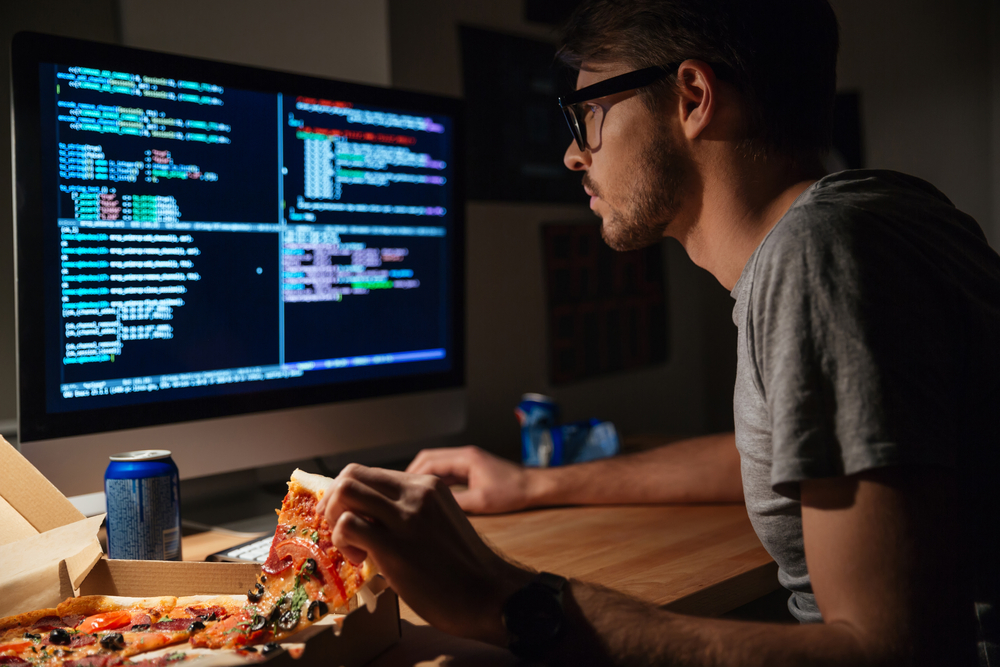 What is Inbound Call Centre Software, and what are the benefits to your business?
Inbound call centres are a business's most crucial department regarding customer service and brand reputation. However, with companies evolving all around delivering a more digital customer service experience on various channels to reduce the volume of incoming calls, many customers still prefer talking to an agent directly rather than communicating via email or live chat.
Many companies fail to provide good customer service due to a lack of agents handling incoming calls and the resulting waiting times. When handling large volumes of calls, call centre agents tend to feel overwhelmed and show a decrease in productivity and motivation, affecting the quality of the customer support. This article aims to understand why investing in modern Inbound Call Centre Software will maximise your customer satisfaction success and lead to higher internal efficiency.
What are inbound call centres?
Inbound call centres mainly focus on existing customers' client relations and queries. Agents who operate inbound calls are customer-oriented and mostly answer incoming calls or messages on other channels to solve a customer's inquiries or problems regarding products and services. The inbound team represents the voice and image of the business as, in most cases, it remains the customer's first direct interaction with the company – at times, even the only interaction the customer has with the business. The business reputation and brand image can be heavily affected by the performance of the inbound call centre team.
What is Inbound Call Centre Software?
An inbound call centre software is a tool that helps you to process and streamline incoming calls for your company efficiently. It centralises all your customers' requests and information about them, such as the purpose of the contact, date, contact details, history, etc. The aim of centralising all of your customers' requests and information into one location is to make it more accessible to your agents and therefore reduce the time it takes to solve a customer's query. Accessing all data at once without switching the channel or system, wasting time searching through the customer's interaction history with the call centre, or putting the customer on hold results in agents solving more customer requests and therefore increasing operational efficiency, reducing costs.
Why should your business invest in an Inbound Call Centre Software in 2022?
Besides improving the overall employee productivity by providing more accessible customer data, investing in an Inbound Call Centre Software has shown to reduce the cost per call and also improve the first-call resolution by using intelligent routing features to help prioritise urgent customers queries and connect customers with the most capable agent in the first attempt. Inbound Call Centre Software has various incoming calls features which can be tailored to your needs, such as advanced call routing, customer interaction history, and tools to monitor, record or even redirect live customer conversations. Furthermore, implementing well-programmed Inbound Call Centre Software makes it safer to store customer data and therefore results in more satisfied customers and overall stronger customer relations.
There are many more advantages and reasons your business should invest in an Inbound Call Centre Software. However, it is crucial to a business's success to either invest in a well-designed system or upgrade from outdated software.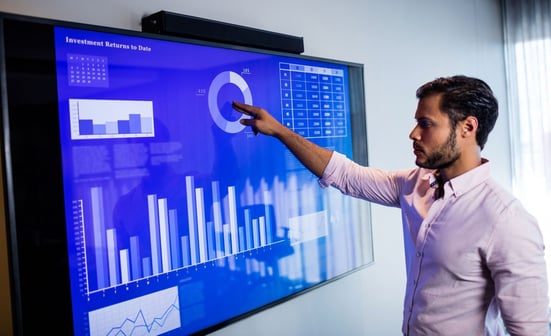 Here are some of the typical features of an Inbound Call Centre Software and their practical advantages:
Interactive Voice Response (IVR)
An interactive voice response system (IVR) is an automated phone system that allows incoming callers to access information via a voice response system of pre-recorded messages. IVR works without having to speak to an agent and utilise menu options via touch-tone keypad selection or speech recognition to have their call routed to specific departments or specialists. This feature allows your agents to handle high volumes of incoming calls better. Especially when there are several departments, having an IVR feature in your Inbound Call Centre Software is essential to help the customer get to the right agent or department quickly instead of waiting long in the queue. The IVR feature allows you to collect relevant information from the customer before they get to speak to an agent. When the customer gets connected with an agent, all the information the representative needs is already available, and the customer won't have to repeat themselves. In addition to that, it allows you to adjust greetings and menus to your business's needs so that callers can easily be routed without being put on hold or transferred multiple times. All of the benefits of an IVR feature result in reducing time, increasing internal efficiency as agents handle more calls, providing better quality support, and boosting operational productivity.
Intelligent call routing
Intelligent call routing, also called Automatic Call Distribution (ACD), can be utilized to effectively manage all incoming calls using a database of configured identifiers, instructions, and call volume. The system aims to help decrease the average handle time and length of the call, reduce the queuing times, differentiate incoming calls and identify high priority urgent calls that need to be prioritized and increase first call resolution. ACD contains valuable features such as automatic customer/caller identification, typically through the phone number the call is coming from. Once the caller/customer has been verified and identified, the call can be appropriately routed to the correct department, placed into a queue, and supervised. In addition to that, the ACD can collect and store data for each call, making it easier for call centres to have an organized and well-stored overview of all customer data. Investing in an Inbound Call Centre Software with an ACD feature saves your inbound call centre valuable time and decreases operational costs.
Skill-based routing
All customers have different needs and problems. Skill-based routing is an essential feature that will ensure that a call is routed to a specific agent based on the information or requirements provided by the customer. Essentially, routing the call to an agent who speaks a particular language or has skills or knowledge regarding the customer's query. Usually, the ACD and IVR function collaboratively to maximise customer satisfaction. The IVR collects information from the customer that helps the ACD route the call to the right agent who is qualified enough to solve the customer's query. When calls are routed to the suitable agents with the correct skillset, customer issues are quicker and more accessible, leaving the customer with a positive experience with your business.
CRM integration
When investing in an Inbound Call Centre Software, one of the essential features to look out for is the Client Relationship Management (CRM) integration. For call centre agents to provide quality support, they need access to all customer information and, eventually, past interactions. Especially when a customer reaches a different agent every time they call, integrating your software with your CRM systems will help your agents understand the customer's entire interaction history and sensitive data. CRM prevents customers from repeating themselves. The more context agents have about the customer, the easier it gets to provide more effective support. Understanding how the software integrates with other systems, such as your CRM as an example, is essential to providing your agents with enough context to be helpful without wasting time switching between different systems or searching for customer data. The CRM integration will enable your agents with a 360-degree view of your customer's interaction history which can also help to personalise the customer experience and overall help busy call centres operate more organised, efficient, and productive.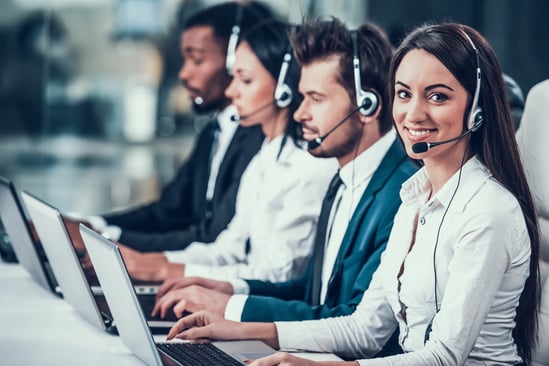 Real-time reporting and analytic dashboard
To improve your Inbound Call Centre performance, managers need to have an insight into the real-performance and conversation rate of their call centre agents to evaluate the call centre's efficiency and eventually make changes to improve the internal quality. The Inbound Call Centre manager usually pays attention to specific metrics such as incoming call volume, agent efficiency, first call resolution and queue waiting time. In addition, reporting can identify areas that might need more attention, such as gaps in your support coverage or even highlight potential training opportunities. Analytical reports are essential when making staffing decisions, scheduling agents, and evaluating the performance of individual agents, teams, departments, and the call centre as a whole. To optimise your operations, you need to be able to rely on real-time or historical reporting to monitor and measure your metrics. By measuring and tracking your analytics accordingly, you can improve call centre efficiency and make tailored changes to your departments and methods.
Queues
Being able to customise your queues will make your customer's experience more pleasant, but it will also improve your overall business image. A customised call queue can be tailored and adjusted to play music, provide customers with exciting and essential information, or approximate waiting times. You can also integrate a callback or voice mail option so your customer will not have to wait for long periods in the queue. Call queues are also a tool to advertise specific products or even remind customers of alternative ways and channels to reach out for support.
Omnichannel flexibility - remarkable and modern support
When trying to keep your business relevant and provide exceptional customer service, offering support on various channels such as live chat or social media is crucial to provide your customers with a modern and digital solution. Every customer has a different preference regarding what channel they like to use to contact your business. However, having crucial customer information scattered across other channels can overwhelm agents. A modern Inbound Call Centre Software can unify all inbound messages in one dashboard and makes it easier for agents to access information. As a result, your agents can provide consistently outstanding customer service and assist each customer regardless of the channel. Providing the flexibility to help your customer on any channel will make your Inbound Call Centre stand out and enhance your digital support experience.
Call recording, tracking and monitoring
Call recording is a crucial feature for quality and training purposes. It helps agents practice with actual customer queries and supports building up the confidence of junior agents. By recording calls, agent training can be improved and costs reduced. Furthermore, monitoring calls help you check the quality of your agents' support. Also, if any disagreement arises between a customer and an agent, call recording can help you resolve the issue efficiently while also serving concrete proofing. On the other hand, call tracking keeps track of all your business calls. Therefore, implementing the call tracking feature helps you track each agent's performance and see if agents answer all the calls.
Final thoughts
Inbound Call Centre Software enables your business to stand out and deliver exceptional customer service. Investing in modern software has improved your call centre's ability to process and assist customers faster. Its innovative call routing feature will help you quickly connect your customers with suitable agents. In addition, your agents will be more motivated, productive and quicker as using the software gives agents the ability to have information from multiple channels or prior interactions easily accessible. Most modern Inbound Call Centre Software features lead to lower operational costs regarding agent training, increased operational efficiency, improved customer satisfaction, and reduced time spent on long queries. Furthermore, Inbound Software assists call centre managers in identifying methods to enhance a specific department, simplify operations, evaluate overall performance, and increase efficiency within the organisation.